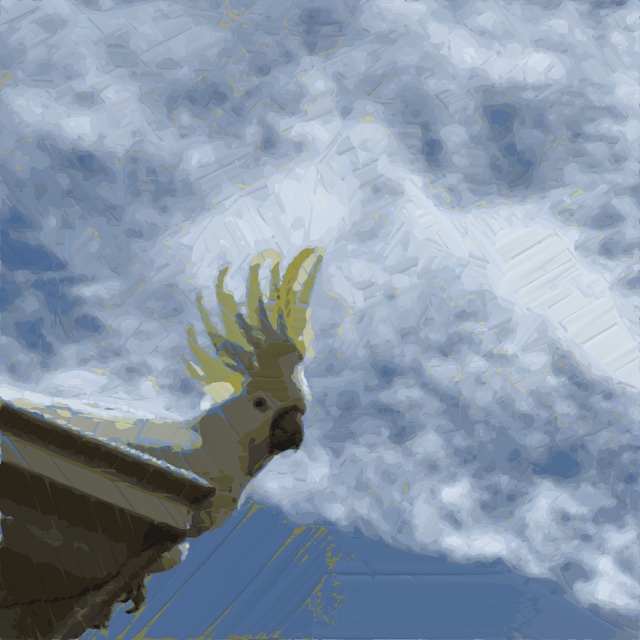 My Grandparents live in a zoo.
It really does seem like they do.
Their house is full of animals!
And there're heaps in their garden, too.
There are three dogs—Jess, Phea and Ben,
a tank with some fish—at least ten.
That sounds rather normal you say?
Hear what's in their laundry room, then!
They've at least seven bird-cages
with birds of different ages,
from a helpless baby galah
to old Mag, who rants and rages.
Three aviaries out the backdoor
(they're planning to build a few more)
keep safe a whole covey of birds—
I counted at least thirty-four!
Lorikeets and budgerigars,
rosellas and cheeky galahs,
a silly old white cockatoo
that hangs upside down on the bars!
There're twenty-three ducks on the lawn—
it's starting to look a bit worn
by waddles of forty-six feet!
('Cause the ducks are not yet airborne.)
One pet is a bit hard to see—
she's dug herself under their tree—
a turtle who's still rather shy,
so they tend to just let her be.
The funniest one of them all
is Possum—who's still very small—
who likes to hide up Grandma's shirt
with his claws out so he won't fall.
My grandparents live in a zoo.
It's great to visit, it's true,
but I'm so glad I don't live there
'cause everything's covered in POO!
© Kristin Martin 2013
A version of this poem appears in Tadpoles in the Torrens, Poems for young readers,edited by Jude Aquilina (Wakefield Press, 2013).