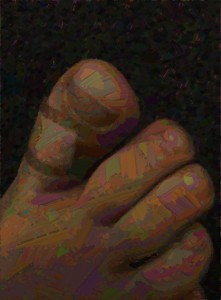 I've got a Band-Aid on my toe.
It's been there for twelve days.
It's scungy, black and smells a bit,
but on my toe it stays.
My mum says, 'take it off right now,
it makes me feel quite sick.'
My dad says, 'that's disgusting son!
You take it off now. Quick!'
But I'm not gonna take it off,
at least not for a while:
my brother isn't grossed out yet,
and that would make me smile.
© Kristin Martin 2012