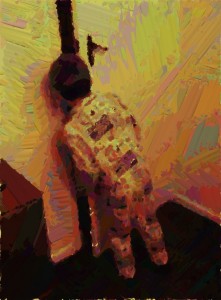 Last night I saw something that
I'd never seen before.
This something that I'd never seen
was right outside my door.
It made me gasp aloud with shock
the moment that I saw it.
The something was so big and red
I couldn't dare ignore it.
I quickly jumped out of my bed,
tip-toed across the floor.
I had to know about this thing
I hadn't seen before.
As soon as I crept close to it
my heart began to race.
I saw the thing was not a thing
because it had a face!
My body shook from head to toe,
my mind was full of fear.
There was someone that I'd never seen
and he was very near.
I stared in shock at his red coat,
his boots of blackest black.
I saw the pompom on his hat,
the bulging big red sack.
And then I had to laugh out loud.
You know why, I'm sure.
That someone was not scary at all.
It was Santa that I saw.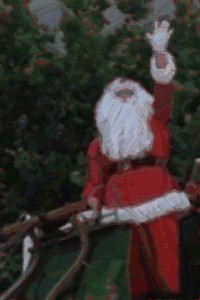 © Kristin Martin 2012
This poem also appears on the website Australian Children's Poetry as a Poem of the Day.